Ticmate veldedighet
Er det mulig å drive en forretning som tjener penger samtidig som den er med på å gjøre verden litt bedre? Det har vi troen på, og derfor har vi startet Ticmate veldedighet.
Vi hos Ticmate er dedikerte når det gjelder å berike menneskers liv gjennom informasjon og tilgang til internasjonelle begivenheter. Vi har lyst til å promotere sosialt ansvarlige forretninger og skape verdier for våres kunder, ansatte, leverandører og medeigere. Vi har også lyst til å ta sosialt ansvar og jobbe mot en varmere og bedre verden – derfor donerer vi årlig deler av overskuddet vårt til veldedighet:
Siden 2009 har vi donert 2 373 500 SEK til veldedighet.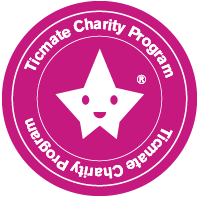 Leger uten grenser
Leger uten grenser er en medisinsk humanitær organisasjon som redder liv og lindrer nød der det er mest behov for det. De støtter mennesker rammet av krise, krig og naturlige katastrofer uansett deres politiske tilhørighet, religion eller etniske opprinnelse.
Hos Ticmate støtter vi arbeidet deres, og har siden 2011 bidratt med totalt 1 943 686 SEK. :

I 2016 og 2015 donerte vi 360.000 SEK og 500.000 SEK til prosjektet "Middelhavsmigrasjon", som hjelper flyktninger over hele verden.

I 2014 donerte vi 450.000 SEK til kampen mot Ebola, og til hjelp og støtte under katastrofen i Den sentralafrikanske republikk.

I 2013 donerte vi 200.000 SEK til Leger uten grenser sitt humanitære arbeid i Syria.

I 2011 og 2012 donerte vi 363.500 SEK, hvorav 70.186 SEK gikk til Leger uten grenser.

"On behalf of MSF I would like to thank you all at Ticmate for your hard work which resulted in a generous gift to our work with Ebola and our projects the Central African Republic. We are really impressed by and thankful for your commitment to our organisation and the work we do."
-Katharina Ervanius, 'Leger uten grenser'

Lær mer om arbeidet til leger uten grenser her.